A cab ride changed his life.
Content to remain in Texas, Mark Addicks came to Minneapolis to interview for a job he never thought he'd accept. Seeing Minneapolis only from the backseat of a cab, he thought it looked like most other cities: lots of freeways, lots of cars, nothing noteworthy.
Then, with a bit of time to kill before his return flight home, his cab driver took a right turn into Wirth Park: Trees. Pathways. And most importantly, people everywhere. "It was a nice day at the end of March, people were out running, walking their dogs. The driver took me around the Chain of Lakes. The parks drew me in. I accepted that job. Parks are what kept me here."
With a busy life, Mark used the Minneapolis parks frequently, like most other professionals used them. "I used the parks like I worked: I would hurry home, change clothes, run. It was a thing I had to do," Mark offers, "It was stressful."
He wondered why weekends in the parks were so frenetic, so active. "I get that people used the park to exercise, and that is a good thing. But a park is our shared backyard. Why don't we use it like a backyard?"
Inspiration struck Mark again when he and his son ventured to St. Olaf College in Northfield for a summer culture camp. "On the morning we arrived, there were Adirondack chairs in the quad. Each morning after, I noticed the chairs had moved around. It was a marvel."
Ever curious, Mark set out to chronicle the moving chairs. "I came outside to see where the chairs were. People occupied the chairs, but who are they?" He thought they would make interesting characters in a short story. "The first morning, there was somebody in a chair with coffee, and there was a woman reading. At noon, a woman having a good cry. At the end of the day, a couple was making out, totally in love! Those chairs were at the center of it all."
Years later, Mark was struck again. "I had been traveling back and forth to Philadelphia, and in Philly's ugly airport I noticed something: there used to be these wide open walkways on the concourse, and then there were rocking chairs, and people everywhere sitting in them! There were people talking and laughing in those chairs, people connecting."
Mark was fired up. He thought, "How could I do this in Minneapolis?" With a child and a busy work life he wondered if he would have time to take on a project like this. He wondered who would take care of the chairs, and worried, since they wouldn't be fastened down, they might be stolen. Then he retired, and did it.
Mark knew a woodworker, Willie Willette, and inquired with local park officials on how to make a mobile seating project like this work in a public space. Mark lived near Lake of the Isles, and thought that would be a perfect spot to prototype a few chairs (so he could easily monitor their usage like he did at St. Olaf), but he also knew he wanted the project to promote equity in Minneapolis. "I didn't want this to be a rich person thing," Mark says. "I wanted it to be for everyone and I wanted another location different from Isles."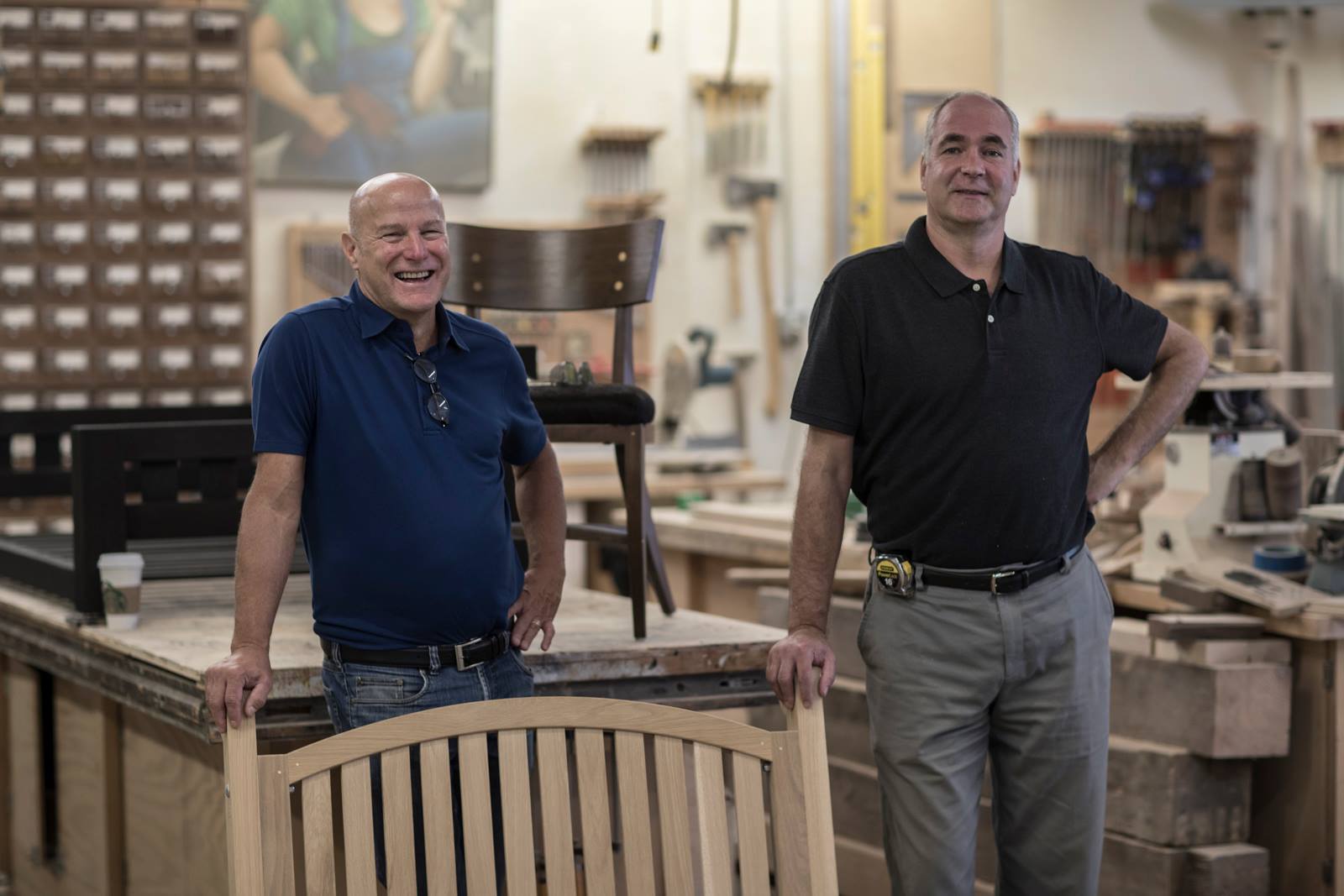 A visit to Currie Park, on the city's residentially dense south side, clinched it for Mark. "I got to Currie about 5 pm one afternoon, and I couldn't believe how busy it was. Mostly Somali, it was like visiting another part of the world. I saw mothers and fathers, and children playing soccer. Everyone was standing, there were no seats. I knew this was the place."
Mark paid for the initial chairs to be built by Willie. They placed a few chairs (benches, really, they are wide enough for two to sit comfortably together) at Lake of the Isles. 4 were initially placed at Currie Park. As soon as the benches were set out at Currie, people sat in them. A week later, 4 more were placed at Curry, and then 8 more.
The following spring (2017), Mark showed up at Currie with the chairs that had been stored for winter, and the neighborhood women were waiting for him and his truck. The women took charge, they spread them around the park, they knew where they wanted them. The chairs mattered; they fostered community, conversation, connection.
"We have not lost one chair at Currie," Mark offers. "The experience at Currie showed me, 'We care for this place, we care for these chairs, we care for each other'."
Willie designed the chairs, and builds them with help from students at his University of Minnesota workroom. They use local, reclaimed white oak. 150 chairs are currently sprinkled throughout Minneapolis Parks, and Mark and Willie collect the chairs each fall and store them indoors for winter. The students repair and clean the benches for replacement the following spring.
"A lot of people wondered aloud that people would steal the chairs," says Mark, "that was their cautious Minnesotan warning." But, in his travels for work, Mark had seen thousands of bikes scattered around Tokyo without the use of a single lock. "How did we get to the place where we need to lock bikes, anyway?" Mark muses. He hopes the untethered, mobile nature of the chairs continues to engender the same care and ownership citizens at Currie Park exhibit.
"This is about openness, a chance to re-wire society for trust," Mark tells me. That, and a chance to sit down, rest, and take in the view of our spectacular back yard.
For more information: https://www.facebook.com/GoodChairProject/
Photos by: Tracy Nordstrom and Minneapolis Good Chair Project